---
LINKS
https://www.ontario.ca/page/2019-novel-coronavirus-covid-19-self-assessment
https://sac.covid-19fnihbontario.isc@canada.ca
https://www.hydroone.com/savingmoneyandenergy_/financialassistanceforresidents_/Pages/Relief-Fund.aspx
https://www.sac-isc.gc.ca/eng/1584456952392/1584456999460
https://www.cbc.ca/news/canada/apply-emergency-benefits-1.5501977
https://www.psychologytoday.com/us/blog/lifetime-connections/202003/covid-19-fears-how-calm-childs-anxiety
https://childmind.org/article/talking-to-kids-about-the-coronavirus/
https://www.thestar.com/life/health_wellness/opinion/2020/03/10/how-do-you-talk-to-your-kids-about-covid-19-without-scaring-them-too-much.html
All other information related to COVID-19 can be found on our Community page.
---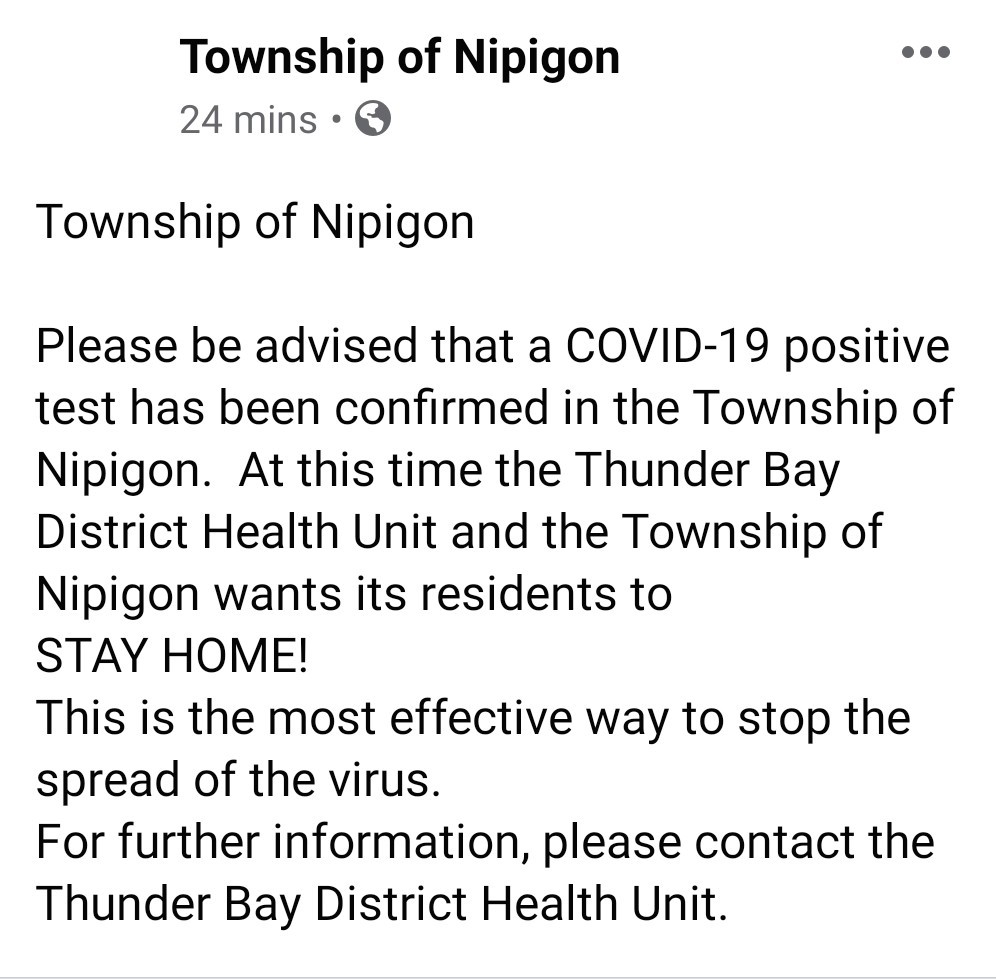 ---
DAY 17 OF COVID-19 PANDEMIC - UPDATE
There are currently no confirmed COVID-19 cases in First Nations in Ontario. However, as the number of cases in Canada continues to rise exponentially we must remain diligent in our efforts to flatten the curve and take the necessary actions to keep our citizens safe in the months ahead.
In Ontario, 46 First Nations have declared a State of Emergency and 35 First Nations have locked down and are self-isolating, including Ontario's (and Canada's) largest First Nation, Six Nations of the Grand River.
URBAN SUPPORTS
First Nation leaders have expressed serious concern over access to services for their members who reside in urban centres. Therefore, our office is currently working with the National Association of Friendship Centres (NAFC) and the Ontario Native Women's Association (ONWA) to collect information that can be shared with each community. We expect to have a resource guide distributed for early next week.
WEEKLY CALL
My office has been holding weekly calls on Thursday mornings. Last week we spoke with ISC Minister Marc Miller and this week, we had Premier Doug Ford, Minister of Health Christine Elliott and Minister of Indigenous Affairs Greg Rickford on our Leadership Council/Chiefs call. We want a coordinated and cooperative approach with the Province of Ontario as many of our people will end up in the provincial health system. Next week, Minister of Health Christine Elliott and Ontario Chief Medical Officer Dr. David Williams will join us again.
Here are Vanessa's media summaries/highlights:
Statistics In Canada and Ontario
Canada: 4,018 Confirmed with 39 Deaths
Ontario: 858 Confirmed with 15 Deaths
Again please be careful what information you share on your social media. Just because a friend, or family posted it doesn't make it true. Make sure you are sharing reputable information so that we don't continue to spread false news that can send more fear among the public. Below are three sites you could be watching daily for updates.
I am holding all of you in my heart and prayers as we race to stay ahead of the curve. Again, I ask everyone to continue to follow the World Health Organization's guidelines to prevent spread of virus including: washing hands frequently, avoiding touching face and cleaning surfaces regularly. You can save lives and protect health by:
* going home and staying home
* Physically distance to #FlattenTheCurve #PlankTheCurve
* Keep adding to your pandemic kit as grocery stores restock and set it aside in case you need to quarantine and can't leave your home
* Reach out and find mental health supports
* Take time to be by yourself on the land
I continue to hold a deep and abiding love and care for everyone during this tumultuous time. Please share my posts widely.
Ninanaskamon. Kisahkeetin.
~RAA
---